Corporate Team Building
Corporate team building through cooking is an alternative to rope climbing, golf outings, brainstorming sessions obstacle courses, treasure hunts, etc.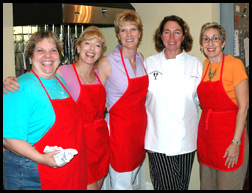 Through the process of food preparation, your group will create both a gourmet meal and a cohesive, results driven team. Good food and dining serve to breakdown cultural and social barriers.
The true focus of the team building experience is to create an atmosphere that promotes comfortable interaction among the team members and an emphasis on having fun.
Groups will have fun while learning through hands-on experience the following concepts:
Planning

Communicating Effectively

Problem Solving

Meeting Deadlines

Evaluating Results
By using cooking as a tool for facilitating the interaction between coworkers, we provide:
the opportunity to team build

cooking instruction from a CIA trained chef

original menus with delicious recipes

a fun, relaxed atmosphere that helps employees develop better rapport and trust

the ability to get to know coworkers beyond e-mail and voice mail

the means for team members to participate equally in a low-stress, high-fun environment
People Are Saying:

Thank-you for showing our team such a fantastic time. I really appreciate the extra attention you gave everyone! ~CP, Columbus

Click Here to read more testimonials.
Curriculum
Pre-event
You determine the team members(maximum 60 people) and choose a menu based on the number of participants (ideally 3 to 4 per team).Keep in mind any food allergies or food aversions with respect to recipe selection. Each menu is customized to your groups particular preferences. Please contact us for menu otpions. See some sample menus.
While at Woodhaven Farm
The program begins with a brief orientation on the menu, food safety and outlining goals for the day.
Next, the group is divided into smaller teams responsible for their own part of the meal. Each "team" will work together to prepare one or more of the innovative dishes. All the recipes, fresh ingredients and equipment are supplied to you. While cooking, teams are encouraged to problem solve, share ideas with other groups and receive as little instruction as possible from the Chef.
Upon completion, each group will present their beautifully created dishes. The entire group sits down together for a fabulous dining experience.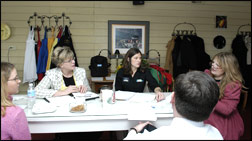 Afterwards, teams meet and discuss what they have learned in the kitchen and about the team building process. The event usually lasts about 2 - 3 hours for lunch and 3 - 4 hours for dinner.
Partial Client List
Abbott Foods
Aetna
Alliance Data
American Business Women's Association
American Electric Power
Bath and Body Works
Business First
Children's Hospital
City BBQ
City of Columbus
Coca-Cola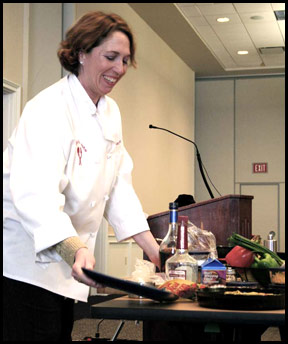 Discover Card
Experience Columbus
JP Morgan Chase
Junior League
Kraft Foods
Make-A- Wish-Foundation
Mt. Carmel
National Association of Women Business Owners
National City Bank
Nationwide Insurance
Net Jets
New Albany Chamber of Commerce Board of Trustees
Ohio Health
Ohio State University
Pepperidge Farm
Red Cross
Schottenstein Center
State Farm
The Limited
The Wasserstrom Company
Victoria's Secret
White Castle
Whole Foods